I love my bike! I don't own a car, because that's pretty much ridiculous when you're living in a city like Copenhagen. Don't get me wrong – I love driving as well, but biking in Copenhagen is just so easy that it'll almost make you laugh – even when it's raining.
I have made some routes for you, if you are visiting Copenhagen for the first time – or if you're living here and need som inspiration. There are links to Google Maps at every route-headline, so you can find your way around the city.
Have a nice trip!
/Louise

There is a lot of beautiful architecture in Copenhagen, and it's amazing to watch while you are driving around in the city on bike. My favourite places are definitely around the old town of Copenhagen. Take this route, if you are interested in buildings that are 500 years old.
Start: Kongens Nytorv
Drive to Bredgade, where there is a lot of galleries. This street also has the Odd Fellow Palace and the Design Museum. Make sure to stop by The Marple Church (Frederiks Kirke): on the left you'll have the most beautiful church in the city, and on the right you'll have Amalienborg, the palace of the royal family.
Turn right at Esplanaden, left at Churchillparken and make a stop by the Gefion Fountain. You can either park your bike here and walk up the stairs and into the beautiful garden with a perfect view of the Copenhagen Habour – or you can continue on Langelinie and turn left under the bridge, which will take you a long the water and up to the little Mermaid on your right.
To get back to Kongens Nytorv, you go back to Esplanaden, but cross Bredgade (it's a one way street) and take the next turn left on Store Kongensgade. Here you will see the Marple Church from the other side as well as many luxury stores. At the end of Store Kongensgade, you are back on Kongens Nytorv.
Nice place to eat: Toldboden
Sportslevel: easy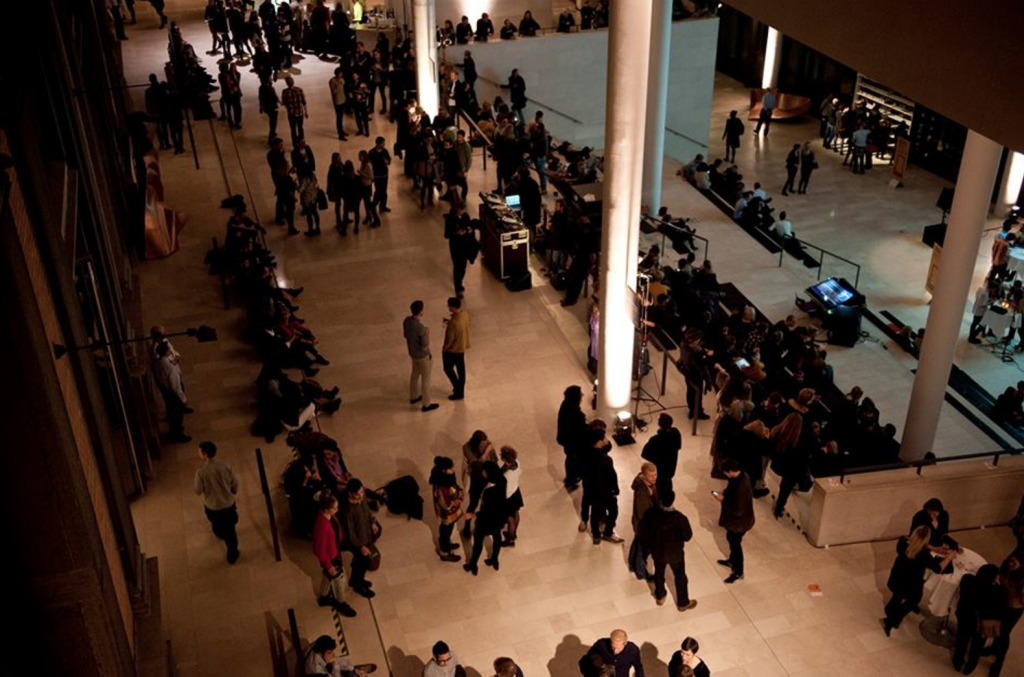 If you want to know something about the Danes, visit Arbejdermuseet (The Workers' Museum). If you want the best art, visit Statens Museum for Kunst.
Start: Nørreport
Swing down Frederiksborggade, and turn right at Rømersgade – here you'll find Arbejdermuseet. After a stop here, you continue down Rømersgade untill you hit Gothersgade. Here you swing right, and turn left when you get to Øster Voldgade. Next street is Sølvgade, and here you'll find Statens Museum for Kunst. It's a huge museum, very beautiful and with a great park.
After a visit here, go down Sølvgade and cross Øster Voldgade. Turn right on Kronprinsessegade and right again by Gothersgade. You are actually driving outside Kongens Have here, which is a very beautiful park. When you get to Nørre Voldgade, you turn left. Drive all the way to H. C. Andersens Boulevard, where you turn left. When you have passed Rådhuspladsen, you will get to Ny Carlsberg Glyptotek, which is the perfect place to see art from the Antique and also modern art. Across the street you will see Nationalmuseet which will give you an inside look to the history of Denmark.
Nice place to eat: Torvehallerne by Arbejdermuseet
Sportslevel: medium (it's a bit long, but totally flat)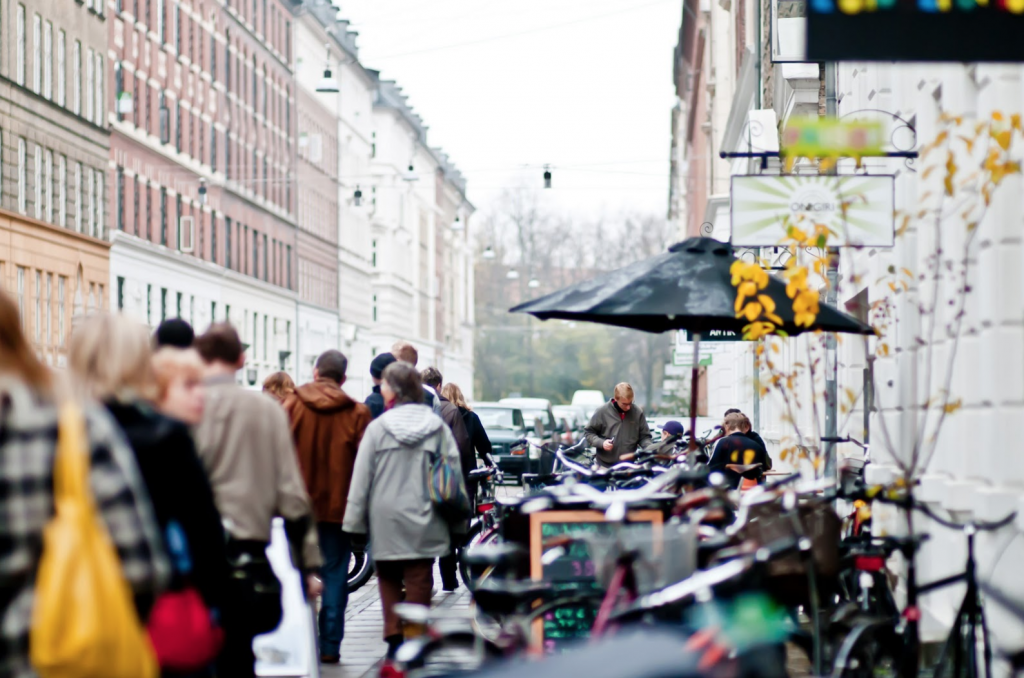 Shopping
There are to areas in Copenhagen, that are happening at the moment: Nørrebro and Vesterbro. Fortunately, they are close, especially if you are on bike.
Start: Enghaveparken, Enghavevej, Vesterbro
Turn right at Enghave Plads / Istedgade. On this street, you can shop designer clothes from local designers as well as posters, flowers, wine and interior design.
The good shops stop at Gasværksvej where you take a left turn and again left again at Vesterbrogade. On this street there are few nice shops, especially the vintage clothes shop, Prag, but otherwise you just move on and turn right at Kingosgade. Follow the road untill you hit Åboulevarden, where you turn left. Follow the road until Jagtvej, where you turn right. When you get to Jægersborggade, turn left. This is the nicest little street with lots of designer shop, cafees and restaurants.
To go back to Vesterbro, turn right at Jagtvej and follow the road through Falkoner Allé and Allégade. When you get to Frederiksberg Runddel, you turn left and follow the road until Kingosgade, where you turn right. Follow the road until you hit Enghaveparken.
Nice place to eat: After shopping at Jægersborggade make sure to visit Manfreds & Vin at Jægersborggade. Great, simple food at reasonable prices and one of the best selections of wine in the city.
Sportslevel: easy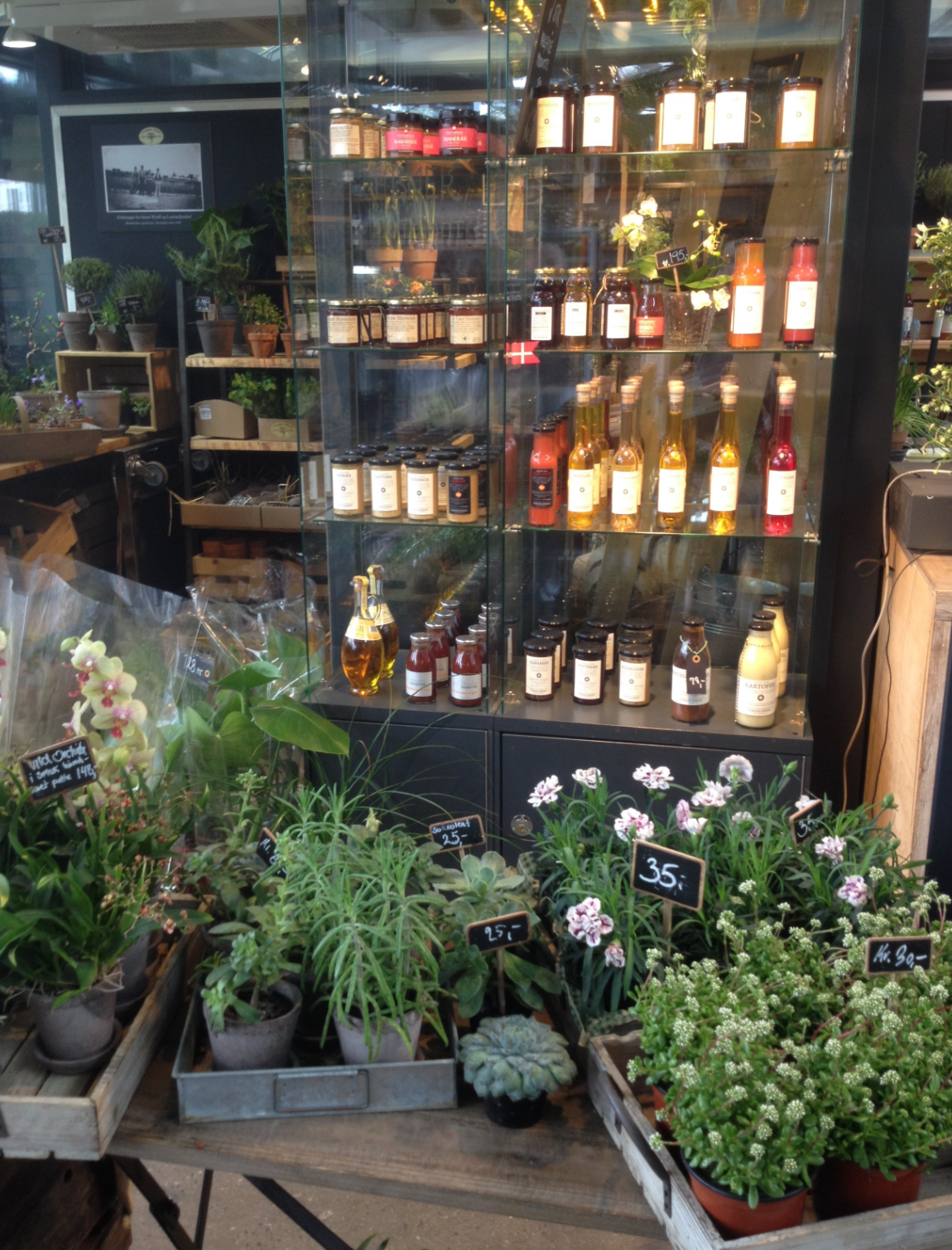 Food & Drink
Copenhagen has a lot of nice food markets, so this trip will take you to three of them – as well as a wonderful Italian supermarket, which not many copenhageners know.
Start: Nørreport Station
Follow Frederiksborggade until you see Torvehallerne. Here you'll find our worldwide know coffee bar, Coffee Collective. Just beside the café, you'll find Laura's Bakery, where you can get the best 'grovtebirkes' in the city (it's sweet bread with wholegrains).
When you have eaten breakfast, return to Frederiksborggade, where you go all the way over Dronning Louises Bridge and turn left at the end of the bridge. Go along the lake until you reach Gyldenløvesgade, which you go across. Turn left at Vodroffsvej and follow the road until you get to Gammel Kongevej, where you turn right and you then turn left at the next street, Bagerstræde. At Vesterbrogade you turn left, and at Gasværksvej you turn right. When you get to Halmtorvet, you go inside Kødbyen at Slagterboderne and there you'll find Kødbyens Mad & Marked, which offers great food from almost all over the world – as well as good coffee and great wine. Here you can sit in the sun and eat lunch.
After lunch you go back to Halmtorvet and follow the street until you reach Skelbækgade, where you turn left. Follow the street over Dybbøls Bridge and turn right at the end of the bridge, by Kalvebod Brygge. This is actually a big road, but there are of course bikelanes for us people on bikes. Follow the road, which becomes Vasbygade, until you reach Vestre Teglgade, where you turn left, and then right at Støbegodsvej. Here you'll find a nice Italian supermarket where lots of delicacies and great wine – also Lambrusco and Aperol, which is a huge trend in Copenhagen at the moment.
Grab you groceries and return to Vasbygade where you go back to Kalvebodbrygge. At the shoppingcentre Fisketorvet take the now bike lane to Islands Brygge (you cross the Copenhagen Habour, a beautiful spot to take a picture), go along Islands Brygge all the way through to the Circle Bridge, to Asiatisk Pl., where you turn right at Torvegade. Follow the street and turn left at Prinsessegade. Follow this street a couple of kilometres (you'll pass Christiania on your way, if you want to make a stop), turn left at Trangravsvej and follow the street until you get to the habour. Here you'll find Copenhagen Street Food where you can get a nice meal and watch the sunset. It's a very popular spot during the weekends.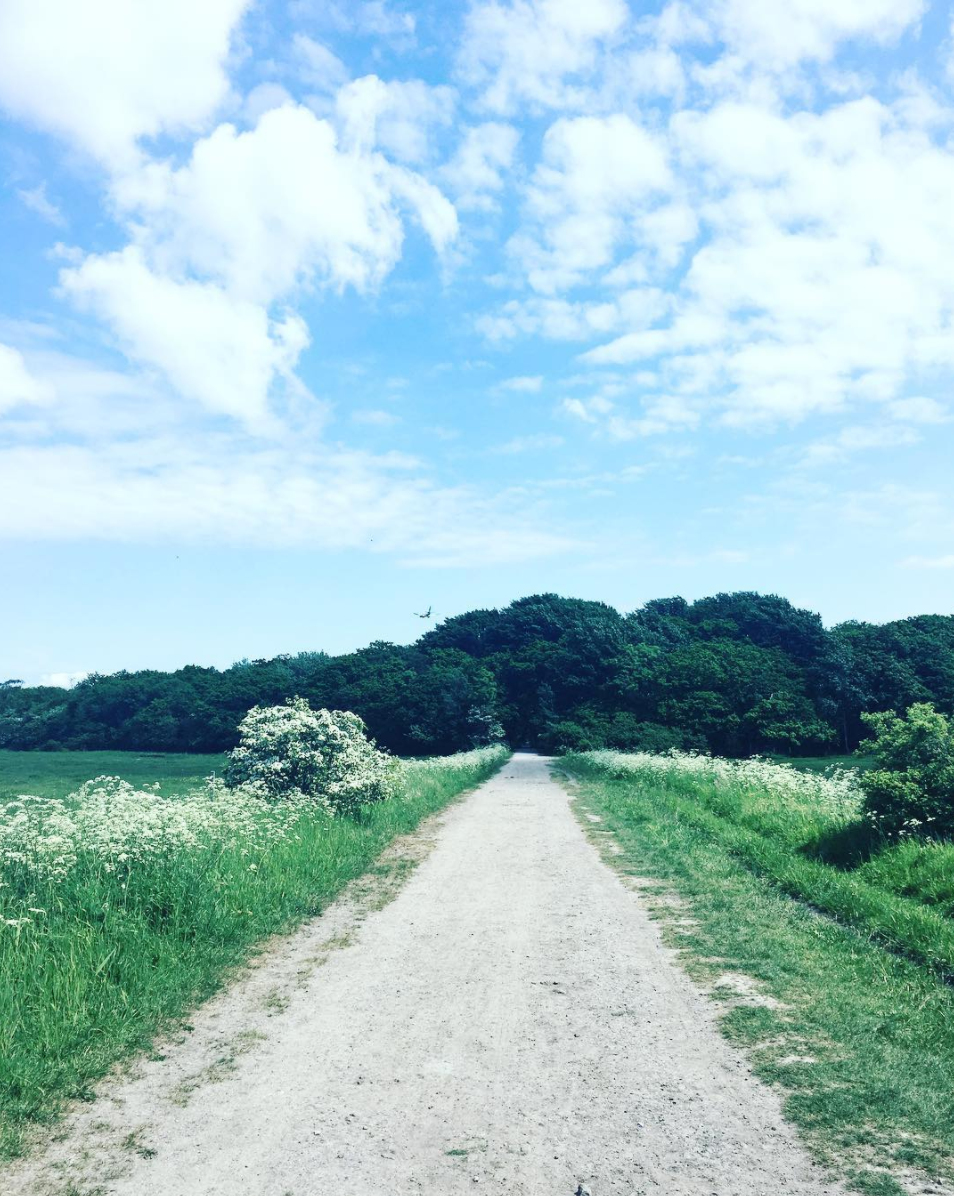 There is a forest where noma-chefs find all their different kinds of herbs and salads. It's a long bikeride from Copenhagen, but it's a wonderful spot to take a long walk and enjoy the nature and the sun (hopefully, you'll never know about the sun in Copenhagen).
Start: Copenhagen Central Station:
Go to Istedgade, turn left at Gasværksvej, turn right at Halmtorvet, turn left at Skelbæksgade and follow the street all the way through to Fisketorvet, where you take the bike lane to Islands Brygge.
The trip is in total 15 km, but you'll get a feeling that you've been far away from the city. And the terrain is flat.
Nice place to eat: If you don't eat what you find in the forest – like the noma chefs does – this is a great place for a picnic. There isn't many places to eat on the way, although you do pass a couple of supermarkets on you way to the forest.
Sportslevel: high. By the end of the day, you have 30 km behind you on bike!

You can also you the Nature-route to this theme, because the forest is a nice place to run. Otherwise you should take a trip to Dyrehaven and the Eremitage Castle just outside of Copenhagen, north of the city. It's a bike ride on 15 km, but it's mostly city and ocean and forest, so it's a very nice ride. And you can go for a swim after you've seen the castle.
Dyrehaven is also a very nice place to go for a run. And there is a trainstation (Klampenborg) by the entrance to the park, if you don't want to bike back to the city.
Start: Copenhagen Central Station
Nice place to eat: Get a traditional Danish meal at Peter Lieb's House in Dyrehaven. Otherwise use the trip as a picnic – lots of people do that here.
Sportslevel: High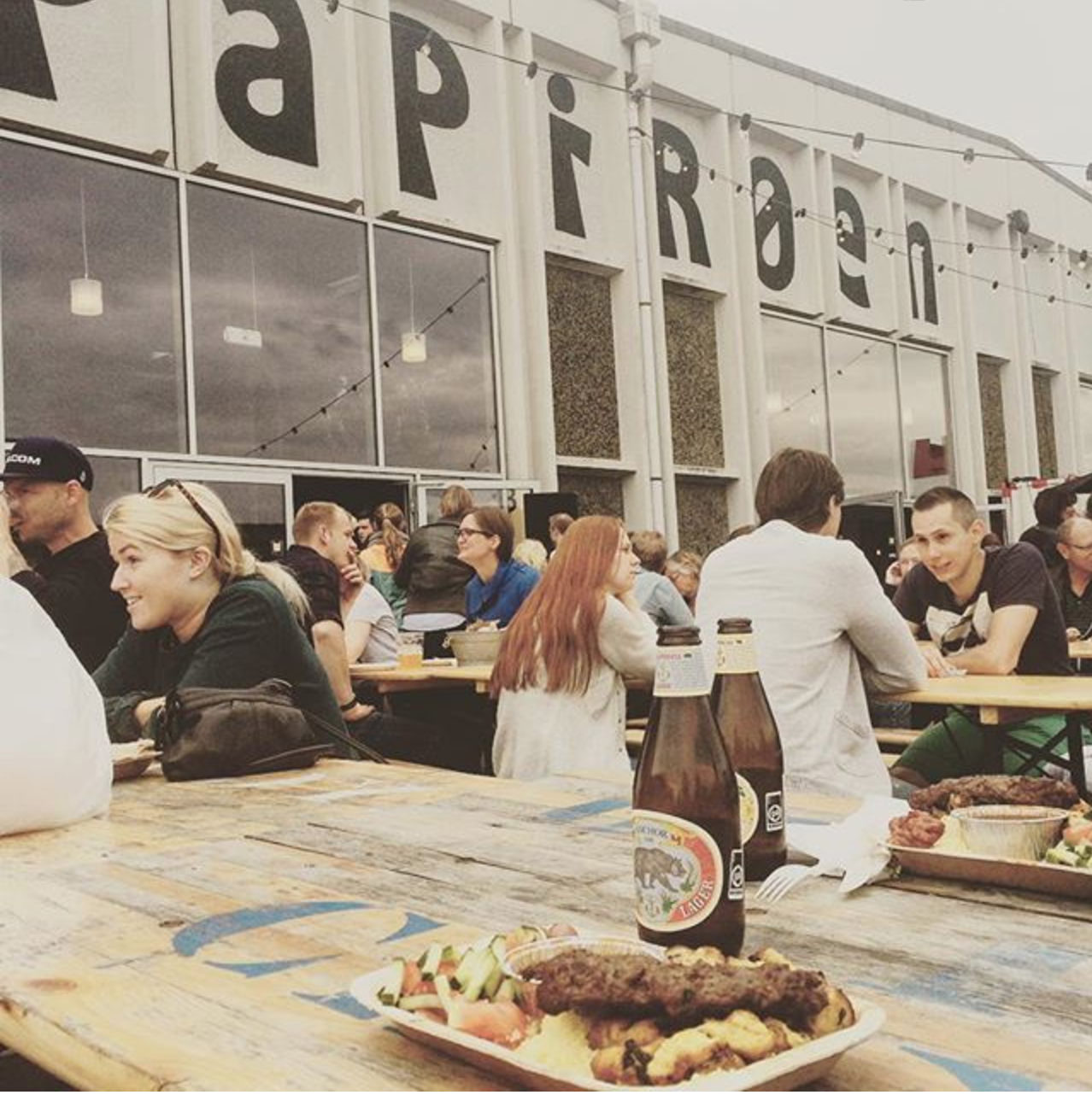 Copenhagen is a great place if you are interested in great food. So I would definitely recommend taking the food trip and maybe combine it with a trip further out to Refshaleøen, which is very happening at the moment. On your way out to the small island (there is a street connecting the island to the small islands out here), you'll pass Frederiks Bastion, which is a very beautiful picturesque restaurant by the sea and it looks and feels like it's several 100 years old which it probably also is.
If you go further, you'll reach the newest hipster-restaurant, La Bancina, situated by the sea, the perfect spot to enjoy the sunset. They served ecological food which you eat sitting with you feet dangling in the water (if you like) and drink nature wine. It's very relaxing, very trendy.
Nice place to eat: La Banchina!
Sportslevel: easy